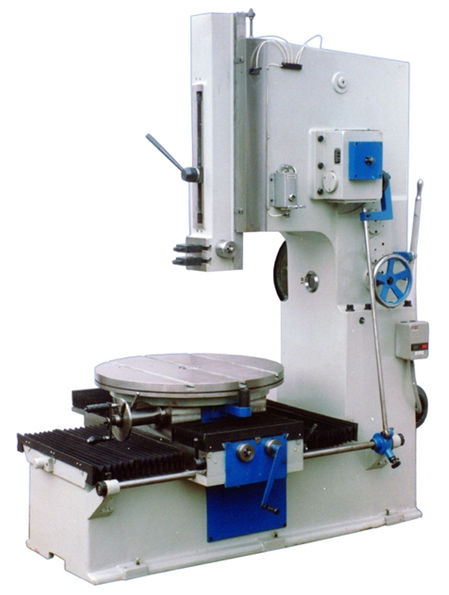 Description:
Machines made from high grade, stress relieved, grey cast iron

The circular table is provided with T-slots. It is divided on its circumference into 360º.

A tapered centre hole in the table allows reception of the centering mandrel while machining circular slotting work.

Direct indexing is provided for accurately locating the various positions.
MODEL

DLS-250

DLS-300

DLS-450

DSL-500

DSL-600

Capacity

 

 

 

 

 

Working Stroke of Ram

225mm

300mm

450mm

500 mm

600 mm

Throat Adjustment

350mm

500mm

675mm

700 mm

825 mm

Ram Strokes

30-60-90

stroke/min

25-40-65

stroke/min

10-15-25-35-50-70 stroke/min

Rotary Table

 

 

 

 

 

Rotary Table Diameter

375mm

600mm

900mm

900mm

1000 mm

Max Job Diameter

750mm

850mm

1500mm

1500 mm

1600 mm

Height between Table & Head

375mm

450mm

700mm

700 mm

850 mm

Table Traverse

 

 

 

 

 

Longitudinal Feed (Manual)

325mm

450mm

625mm

625mm

675 mm

Longitudinal Feed (Auto) Optional

300mm

425mm

575mm

575mm

625 mm

Cross Feed(Manual)

250mm

400mm

550mm

550mm

600 mm

Cross Feed (Auto) Optional

225mm

375mm

500mm

500mm

550 mm

Motor

 

 

 

Main Motor

1.5 kW/

(O) 2.2 kW

2.2 kW/

 (O) 3.7 kW

3.7 kW /

(O) 5.5 kW

5.5 kW/

(O) 7.5 kW

 7.5 kW/

(O) 10.5 kW

Rapid Traverse Motor (O)

N.A.

1.5 kW

1.5 kW

1.5 kW

1.5 kW
(O) = Optional
Accuracy: Geometric & functional accuracy as per IS:2308
Perpendicularity of the ram movement to table surface in longitudinal direction 0.02mm/300mm

Perpendicularity of the ram movement to table surface in traverse direction 0.02mm/300mm
Accessories: Tilting Head, Auto Feed for Rotary Table, Rapid Traverse for Table, Self Centering Chuck, Tool Holder
Application:
Cutting slots, splines, keyway- internal and external

Machining internal and external gears, concave, circular, semi circular and convex surfaces, dies, punches

Shaping internal and external forms or profile

Internal machining of blind holes

Machining of shapes which are difficult produce on shaper