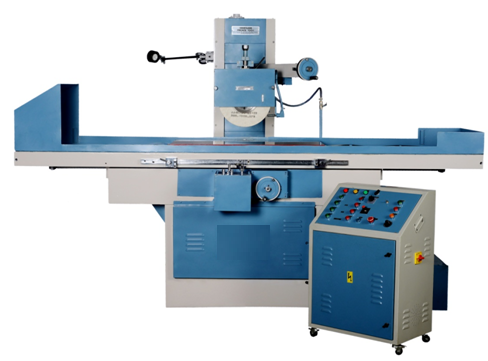 Description:
Machines made from high grade, stress relieved grey cast iron conforming to IS:210

Box type column design to provide excellent dampening effect and movement is done through electromechanical drive

Hardened and ground alloy steel spindle with matched pair bearings and greased packed for life.

Hardened and ground lead screws for precise positioning.

Lubrication is also provided through the hydraulic system for all slides during power on.

Hydraulic system is housed outside the machine for be

tter thermal insulation and maintenance.

All machines come with electromagnetic chuck for job clamping.

Electronic controller for magnetic chuck for quick release and demagnetizing jobs on chuck itself.

Guide wa

ys are coated with Turcite B lining for reduced wear & tear.

Separate electrical tower panel for ease of operation.
Specifications:
MODEL

HYD-208

HYD-2412

HYD-4012

HYD-4020

HYD-4820

Table Working Area

450mm x 200mm

600mm x 300mm

1000mm x 300mm

1000mm x 500mm

1200mm x 500mm

Longitudinal Table Travel

510 mm

660 mm

1070 mm

1070 mm

1250mm

Cross Feed Column Travel

250 mm

360 mm

360 mm

580 mm

580 mm

Spindle Centre to Table Top

330mm

450mm

450mm

450mm

450mm

Longitudinal Table Speed

0-15 M/min

(O) 0-20 M/min

0-15 M/min

(O) 0-20 M/min

0-15 M/min

(O) 0-20 M/min

0-20 M/min

0-20 M/min

Auto Cross Feed

0.3 to 6 stroke/min

Spindle Speed

2800 RPM

1400-2800 RPM

1400-2800 RPM

1400 RPM

1400 RPM

Grinding Wheel

200 x 20 x 50.8mm

250 x 25 x 76.2mm

250 x 25 x 76.2mm

350 x 40 x 127mm

350 x 40 x 127mm

Spindle Motor

1.5 kW

1.1/ 1.5 kW

1.1/ 1.5 kW

5.5 kW

5.5 kW

Elevation Motor

0.16 kW

0.16 kW

0.16 kW

0.16 kW

0.16 kW

Cross Feed Motor

0.37 kW

0.37 kW

0.37 kW

0.37 kW

0.37 kW

Hydraulic Motor

1.5 kW

1.5 kW

1.5 kW

3 kW

3 kW
(O) = Optional
Accuracy: Geometric & Functional Accuracy as per IS:2743
Straightness of longitudinal movement of table: 0.02mm/ 1000mm

Flatness of table surface: 0.01mm/ 1000mm

Perpendicularity of each axis with respect to each other: 0.005mm/ 250mm
Accessories: