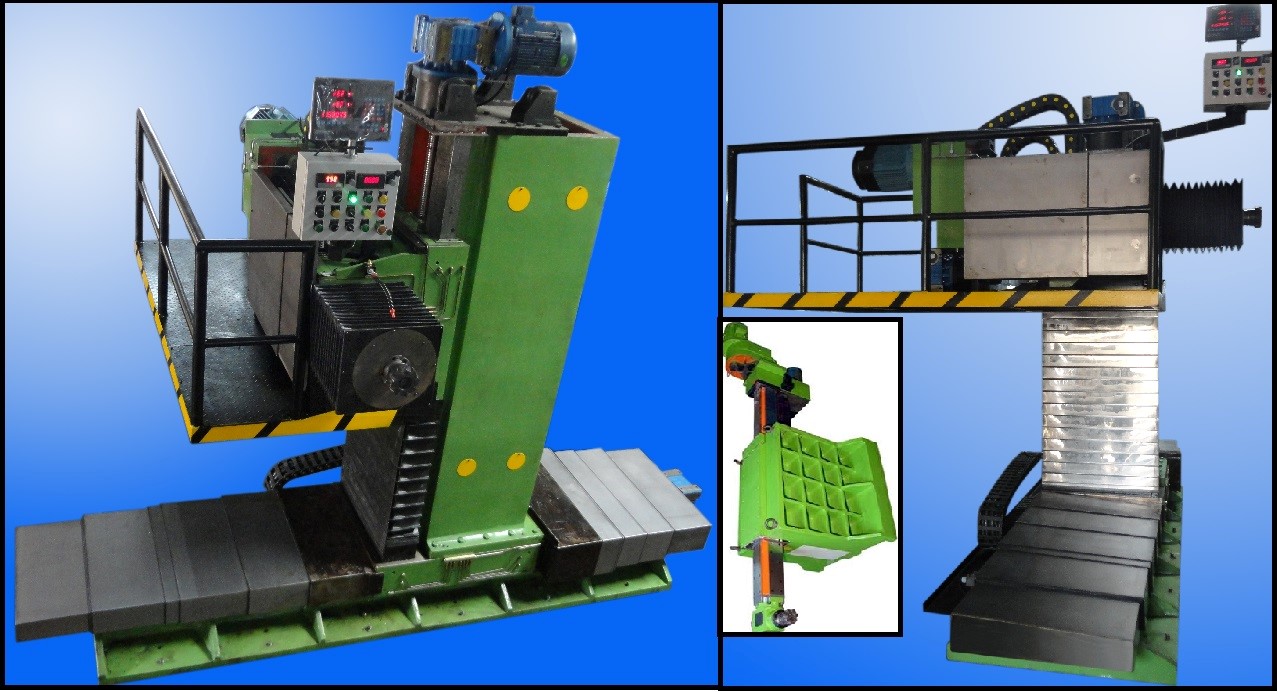 Application:
For long work pieces (8 to 30 metres in length), which require machining operations only at the two ends of the work piece

Typical usage is for milling, drilling and tapping I-beam & H-beam structural steel
Basic Design:
Rigid, heavily ribbed, stress relieved grey cast iron structure

conforming to IS:210
Machine bed, telescopic sliding guide way with bellow cover protection, vertical single column moving on machine bed

All the slides are driven by lead screw, coupled to worm reduction gear boxes and AC induction motor.

Slides are made of cast iron sliding surface and driven through either lead screw / phosphor bronze nut OR rolled ball screw. The bottom slide moves is in longitudinal direction.

The column carries the cross travel guide way with bellow protection, spindle head and drive.

A Milling Head is mounted on top of the slide

. The rotating spindle carries the tool holder and milling cutter.
Machining Capabilities

DRILLING

MILLING

TAPPING

FACING

X axis – Longitudinal Slide

Y axis – Vertical Slide

Stroke

1000 to 3000 mm

Stroke

300 to 1000 mm

Rapid traverse

1000 mm/min

Rapid traverse

1000 mm/min

Feed Rate

40-1000 mm/min (step-less) AC Drive

Feed Rate

40-1000 mm/min (step-less) AC Drive

Motor Power

2.2 kW

Motor Power

2.2 kW

Z axis – Cross/Ram slide

Milling Head

Stroke

300 to 600 mm

Milling Head

Model MHR-5 / MHR-10 / MHR-20

Rapid traverse

1000 mm/min

Power

3.7 to 11 kW

Feed Rate

40-1000 mm/min (step-less) AC Drive

Tool locking system

Manual through draw-bar OR

Automatic arbour clamping / de-clamping

Motor Power

2.2 kW

Drive

VFD Interfaced Spindle Motor