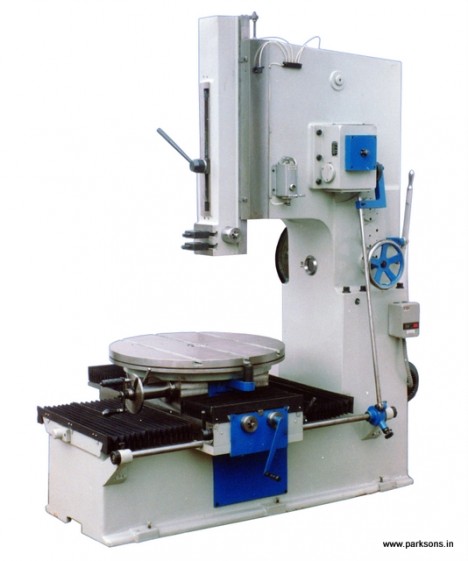 Description: Heavy Duty Geared Keyway Slotting Machine
The column has a deep throat to enable a variety of parts to be machined

The circular table is provided with T-slots

360º direct indexing to accurately locate positions

A taper hole in the center of the table is useful for reception of cantering mandrel while machining circular slotting work.

Steel gear slide on multi-spline shafts. All shafts are carried on ball bearings.
Specifications: (In mm unless specified otherwise)
| | | | | |
| --- | --- | --- | --- | --- |
| Model | PSL-150 | PSL-250 | PSL-300 | PSL-450 |
| Working Stroke | 150 | 225 | 300 | 450 |
| Table Diameter | 275 | 375 | 600 | 900 |
| Longitudinal Feed | 175 | 300 | 425 | 575 |
| Cross Feed | 200 | 225 | 375 | 500 |
| Speed Range | 30-50 RPM | 30-90 RPM | 25-65 RPM | 10-70 RPM |
| Main Motor | 1 kW | 1.5 kW | 2.2 kW | 3.7 kW |
Accuracy: As per IS Standard 2308
Perpendicularity of the ram movement to table surface in longitudinal direction 0.02mm/300mm

Perpendicularity of the ram movement to table surface in traverse direction 0.02mm/300mm
Application:
Cutting slots, splines, keyway- internal and external

Machining internal and external gears, concave, circular, semi circular and convex surfaces, dies, punches

Shaping internal and external forms or profile

Internal machining of blind holes

Machining of shapes which are difficult produce on shaper
Accessories:
±5º Tilting Head, Auto Feed for X & Y Axes, Auto Rotary Feed, Bellows, True Chuck, ±10º Swivel Head, Coolant System